What To Shred in Willoughby Hills
Willoughby Document Shredding connects you to providers of completely self-contained, high volume, mobile, shredding services that come right to your location. Your sensitive documents are quickly and easily shredded by our industrial shredders without slowing down your daily business functions.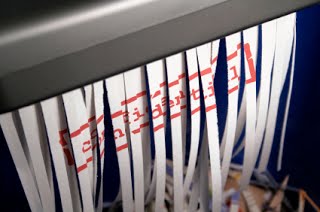 We are committed to saving your Willoughby business time, money, and man-hours. To do so we provide you with a less expensive alternative to buying machines, space, and personnel. Why take a chance? Shred it. You'll get a Certificate of Destruction for every job.
All businesses handle documents that contain information that, in the wrong hands, has the potential to command disaster. We serve regions across Northern Ohio to make sure your sensitive information never gets leaked.
Here is a list of items you may have that need to be destroyed before it is too late:
Sales/Marketing Materials:
Customer Lists
Drafts of Sales Strategies
Prospect Lists
Operations Information:
Proprietary Data
Purchase Orders
Procurement Requests
Supplier Lists
Corporate Records
Legal Documents:
Expired Contracts and Legal Documents
Insurance Agency Records
Legal Correspondence
Accounting:
Credit Card Statements and Receipts
Internal Accounting Reports
Unused Checks
Budgets
Bank Statements
Customer Lists
A/R and A/P Printouts
Employee-related Documents:
Outdated Medical Records
Training Manuals
Personnel Issues (performance appraisals, disciplinary reports, etc.)
Documents Containing Employee Addresses and Personal Information
Payroll Documents
This is a good place to start, but there are tons of documents that need to be disposed of properly. Give us a call at (440) 220- 6531 to find out how we can help keep your information safe.
Get Free, No Obligation Quotes on Shredding Services in Willoughby today!
Make sure your private information doesn't fall into the wrong hands. No matter how much you have to shred, Willoughby Document Shredding is here to help. To learn more about the secure shredding services offered In Willoughby and the rest of Northern Ohio, just fill out the form on the left or give us a call at (440) 220-6531 to receive a free quote.